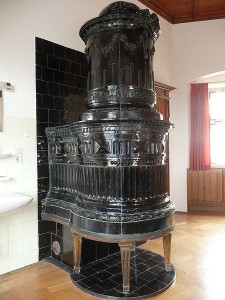 A wood supply shortage coupled with the innovation of chimney capable of removing 90 per cent of the heat supply drove innovation in heat design. By the end of the period in about 1850, many excellent designs had appeared. Designers began to experiment with heat channels, which acted as heat exchangers over a longer course than the simple chimney. Some excellent designs remain in modern versions.
<– Kachelofen, c.1775, Schloss Hohenaschau,
Upper Bavaria
. From Wikipedia Free Online Encyclopedia. The elegant design at left is a tile heater and it and similar designs would be found in homes of the wealthy.